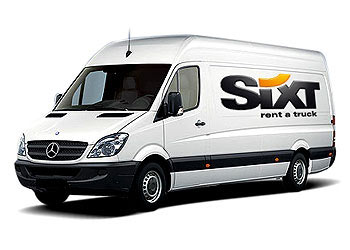 We always get lots of calls  from people asking if they can hire a van. This is our reply, to explain to our customers what we feel is the best option. So the main question is – is it wise to hire a van, or hire a man with a van service?
In this article we will highlight all of the points you should consider and then we will explain why it is likely that a man and van hire service may prove to be cheaper.
Van Hire
Firstly let's start with the cost of these services.  Prices tend to start from £70 per day for small vans to £140 per day for bigger vans.   These are just the headline costs!  Don't forget as well that you will now also have to get insurance…  Insurance is a must.  In the event of an accident, scratch or dents while moving you would be left with the whole repair bill.  All van hire companies will insist on insurance cover (although this is often not advertised in the "cost of hire") and insurance often starts from £280 per van up front.  So now you have not taken the van out yet and spend £440!  Now let's talk about fuel! Van's need fuel, and they are thirsty beasts!  Diesel costs from £1.19 per litre, filling the van's tank is not like filling  a car as it is bigger. To fill a van up will cost at least £90, and remember – theses suggested costs are only for medium size vans.
Well that is the basic costs covered now comes the hard part, moving! With van hire you do not get an experienced removal man, which you would get with a man and van service in London. You will have to do all the work by yourself.  Do not underestimate how much quicker and easier it is for experienced removal men to pack and take your items out of your residence, pack them securely in the van and then unload it all at the other end!  Carrying heavy items, especially up and down stairs, is hard work and our workers are used to this level of exertion and can make a hard job look easy.
Man and Van service
Well now we have covered the van hire above, let's examine our man and van service. Our vans are all specially designed for removals, capable of taking 2 bedroom flats in one trip. They are fully insured, with no hidden charges at all.  The removal men who come with our vans have masses of experience in moving and storage and come fully equipped with dismantling tools should you require any.
It's much safer, cheaper and less stressful to hire our service. Our prices start from £35 per hour all inclusive, please see the list below to see what our man and van service comes with:
NO FUEL CHARGE
NO MILEAGE CHARGE
FREE SEAT FOR OUR CUSTOMERS
FULLY EQUIPPED VANS
LATEST MODEL REMOVAL VANS
NO VAT CHARGE
PRICES FROM £35 PER HOUR
For more information please  visit our homepage for further information, or if you need to speak to us directly please call us using the above contact details.